Palm Sunday: What It Meant Then and What It Means to Us Now
Apr 3, 2022

| by

Les Ballard

Palm Sunday: What It Meant Then and What It Means to Us Now

Originally published April 4, 2020.

The culmination of Jesus' life and ministry is when He was betrayed and put to death. As prophesied by the prophets of old, he was about to enter Jerusalem as King of the Jews and Heir of David's royal line. However, he was not entering as a conquering war-Messianic King, which many in Israel expected. Instead, he entered as a meek, humble King on a donkey, bringing peace.

Passover

Jesus' purpose in going to Jerusalem was twofold. First, as stated above, He was going to Jerusalem to face betrayal and death (Matthew 16:21-23; Mark 8:31-33; Luke 9:22). He went to Jerusalem with His disciples to celebrate the Passover feast detailed in the Hebrew scriptures (Tanakh), or as Christians call them, the Old Testament, specifically the books of Exodus and Deuteronomy.

We know from John's Gospel that Jesus and many of His followers traveled less than two miles from Bethany to Jerusalem. Jesus explained to His disciples that He had to go to Jerusalem and there, suffer "many things," and be rejected by the elders, chief priests, and scribes. He explicitly stated that He would be killed but raised on the third day.

We know from scripture that there was a plan to kill Jesus (John 11:47-53; compare John 10:33, 39). John gives the reasons in John 11. Jesus was performing many miraculous signs, demonstrating that He was from God. Furthermore, people were flocking to Him and believing Him to be the Messiah. There was fear among the Pharisees and chief priests that if Jesus were to continue unabated, a rebellion would follow, which would bring the Roman soldiers. Life as they—the chief priests, Pharisees, and Israel—knew it would cease.

When Jesus arrived outside Jerusalem, He sent two of His disciples ahead to find both a donkey and a colt. They were to untie them and bring them to Him (Matthew 21:2-3). As Jesus approached Jerusalem on the donkey, the crowds became ecstatic. They threw their coats in the road for him, while others cut palm branches and placed them in the way (Matthew 21:8) and shouted,

"Hosanna to the Son of David; Blessed is He who comes in the name of the Lord; Hosanna in the highest!" (Matthew 21:9)

[You can watch the first 2:00 minutes of the video "Jesus of Nazareth" on YouTube of Jesus entering Jerusalem.]

A week later, many within these same crowds would be shouting, "Crucify Him," when Jesus stood in judgment before Pilate. They would go from acclaiming Him King of Israel to trading His life for a convicted criminal. Even His disciples would desert Jesus. All this drama would occur within the week, beginning on what we call Palm Sunday.

This loud and exuberant praise from the crowds made some of the Pharisees present indignant. They said to Jesus, "Teacher, rebuke Your disciples." But Jesus answered, "I tell you, if these become silent, the stones will cry out!" (Luke 19:39-40).

Jesus had avoided such acclaim up to this point in time. However, as stated earlier, Jesus was not entering Jerusalem as a conquering war-Messianic King, but as a meek, humble King on a donkey bringing peace to the world. Jesus' entry and the crowd's response were a fulfillment of the prophecy by Zechariah (circa 520 B.C.):

9Rejoice greatly, daughter of Zion!
Shout in triumph, daughter of Jerusalem!
Behold, your king is coming to you;
He is righteous and endowed with salvation,
Humble, and mounted on a donkey,
Even on a colt, the foal of a donkey.
10 And I will eliminate the chariot from Ephraim
And the horse from Jerusalem;
And the bow of war will be eliminated.
And He will speak peace to the nations;
And His dominion will be from sea to sea,
And from the Euphrates River to the ends of the earth. (Zechariah 9:9-10, NASB)

The Significance of Palms

Palms among the ancient Greeks and Romans were a sign of victory, success, and glory.[1] For the crowds, the palms were symbolic of welcoming Jesus and giving Him glory as the son of David. Even though Jesus entered Jerusalem peacefully, the masses afforded Him the honors of a conquering hero.

Today, we celebrate Palm Sunday remembering Jesus' humble and meek entry into Jerusalem. It is a time of mixed emotions. On the one hand, we experience the suffering, betrayal, trial, beatings, and crucifixion of our Lord. But our mourning soon turns to joy when we celebrate His resurrection.

Consider the following prophecies by Isaiah:

He was oppressed and He was afflicted,
Yet He did not open His mouth;
Like a lamb that is led to slaughter,
And like a sheep that is silent before its shearers,
So He did not open His mouth. (Isaiah 53:7)

I gave My back to those who strike Me,
And My cheeks to those who pluck out the beard;
I did not cover My face from humiliation and spitting. (Isaiah 50:6)

Therefore, I will allot Him a portion with the great,
And He will divide the booty with the strong;
Because He poured out Himself to death,
And was numbered with the transgressors;
Yet He Himself bore the sin of many,
And interceded for the transgressors. (Isaiah 53:12)

Concluding Thoughts

Palm Sunday is a time to reflect on what our Lord faced during the week leading to His crucifixion. It is essential to our faith to understand what Jesus suffered on our behalf and why He gave his life as a "ransom" (Mark 10:45). The term "ransom" implies substitution. In other words, Jesus willingly accepts to die in place of all humanity so that we may have eternal life.

Palm Sunday can be both a joyful and sad time for Christians. We could have easily participated in the welcoming crowds shouting, "Hosanna!" and later exclaimed, "Crucify Him!"

One of my favorite paintings is by Rembrandt van Rijn's entitled "Raising of the Cross," painted in 1633 for Prince Frederick Henry of Orange (see below). There is a man in a blue painter's beret who raises Christ upon the cross. That man is Rembrandt himself. He painted himself in the painting for the world to see that his sins had sent Christ to the cross.

When I look at the painting, I see myself in Rembrandt's place. And then, I am reminded of one more prophetic verse in Isaiah that comforts me:

But He was pierced through for our transgressions,
He was crushed for our iniquities;
The chastening for our well-being fell upon Him,
And by His scourging we are healed. (Isaiah 53:5)

Jesus Christ, who was sinless, took upon Himself the sins of the world. And because of His obedience to the cross, we are healed.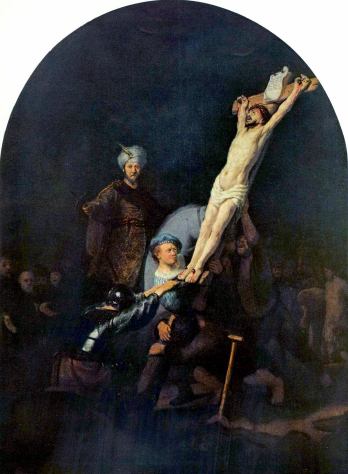 "Raising of the Cross" by Rembrandt van Rijn (1633)
---
Notes
[1]According to F. B. Tarbell, the palm was given to successful competitors in athletic and other contests and was given as an attribute to the goddess Victory herself. See Tarbell, F. B. "The Palm of Victory." Classical Philology 3, no. 3 (1908): 264-72. Accessed April 4, 2020.