Parking is available on the south side of the church next to the Family Life Center and the church's north side adjacent to the office.
---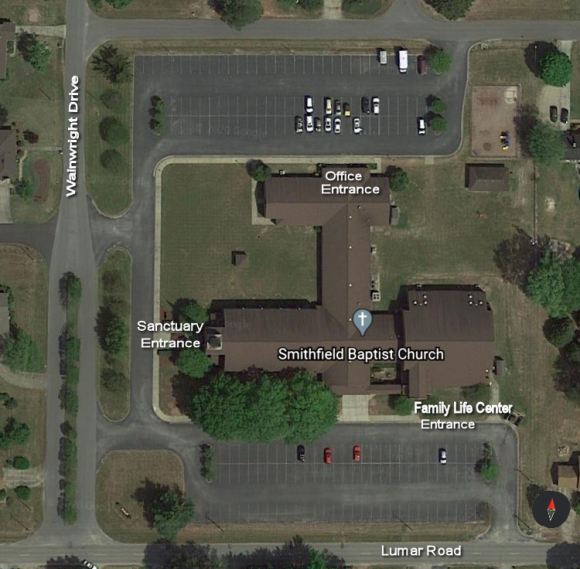 ---
Get Connected
The Christian life is not a life of privacy, for everyone who becomes a Christian is brought into fellowship with Jesus Christ. What does that mean? It means that we are not above anything that Christ did not share—His joys, an abundant life, and His sufferings. But when we do face difficult times, the same words that Jesus spoke to His disciples apply to us today: "…But take heart! I have overcome the world" (John 16:33, NIV).
Our Christian walk is meant to be connected in fellowship with God and one another. We do this at Smithfield Baptist through Bible studies, weekly programs, special events, and outreach. So, get connected today!
Serve
Our faith is put to action when we begin to SERVE God by helping others. We become the eyes, hands, feet and mouth of Christ as we yield ourselves to the leading of His Holy Spirit. This is where the Christian faith becomes exciting and we truly begin to grow. Not only are you strengthened in the faith, but the body of Christ becomes strong by serving the people around us. Sometimes you may seem your service seem trivial, but nothing is ever considered so in the eyes of God!
Grow
All plants begin as a seed. For the seed to grow, it must have good soil and nutrients. The same applies for a Christian. Christian growth begins with a relationship with Jesus Christ through daily prayer, reading and application of scripture, and fellowship.
There are many opportunities for you to GROW at Smithfield Baptist—from children's and youth program's to Adult Bible groups to our Open Door and Traditional worship services. We invite you get involved in the excitement that is part of Smithfield Baptist today!